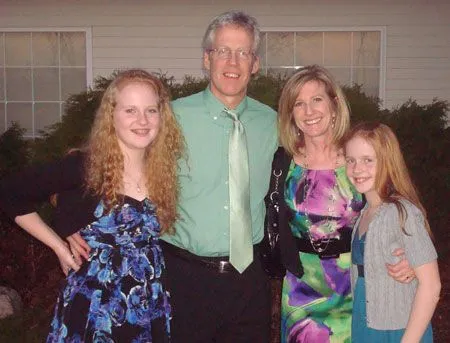 Dr. Hartman and Family
Hello,
I am Dr. Craig Hartman the practicing doctor at Trimont Chiropractic, Acupuncture and Nutrition, PLLC. I have been in practice since April, 1990 and have owned three different clinics in that time. The clinics have been in Little Canada, MN, St. Peter, MN and now in Trimont, MN. For some reason my clinics keep moving to smaller towns, maybe because I was born in a small northern Iowa town, Buffalo Center, and grew up in small towns, Lake Mills and Thompson, Iowa. Whatever the reason, I really enjoy practicing in the small town of Trimont!
As you can see by looking at the clinic name, I provide a variety of services to my patients. My career started with providing only chiropractic service but as time went on I realized that occasionally other services were needed to help my patients. This is why I enrolled in the Masters Degree of Human Nutrition program at the University of Bridgeport. I found that many of the conditions that people suffer from daily are due to our Standard American Diet (S.A.D. Diet) and by applying Functional Medicine (Nutritional Medicine) these conditions can be improved greatly without the need for expensive and dangerous medications. By utilizing Functional Medicine I have been able to greatly help conditions such as type 2 diabetes, irritable bowel syndrome, fibromyalgia, G.E.R.D and others.
Acupuncture is another service provided in my Trimont clinic. I am a Certified Acupuncturist and have found that many conditions respond well to acupuncture. When it is combined with chiropractic the patient gets the benefit of both therapies working together to get faster results. Acupuncture began in China and has been used as a healing art for several thousand years for all kinds of ailments. In my office we use it for musculoskeletal conditions such as back pain, neck pain, headache and extremity pains.
We also provide treatment for bulging and herniated spinal discs with pain radiating to either the arms/hands or legs. Treatment for these conditions involves our Decompression Table. This treatment table will "decompress" the spinal disc so that the bulging or herniated disc material is pulled back into the normal disc space taking pressure off the nerves. This treatment is combined with exercises, chiropractic and acupuncture to get the best results.
Lastly, I want to let you know that my treatment plans are of short duration. I won't keep you coming back for many visits. Getting rid of pain and restoring strength and flexibility does take time but my goal is to have you feeling better as fast as possible.

Thank you and I look forward to helping you in the future.

Dr. Craig Hartman, D.C., M.S., C.Ac.